Business Intelligence through Analytics
We are seeing a shift from transactional competency to strategic excellence for a value focused supply chain in Healthcare. In many healthcare organizations, purchasing and procurement represents the second largest expense and is often manual, paper based or managed through legacy systems which allow bad practices and inefficient transaction delivery to creep into the process.  These processes also make any analytical activity very difficult if not impossible.
CommCARE Intelligence allows you to leverage visual supply chain and organizational spend data, giving decision makers powerful intelligence to make better strategic decisions.
Traditional supply chain analytics take time to compile and present. With CommCARE Intelligence you receive real-time, rich data from one system to measure supply chain performance and savings.
With CommCARE Intelligence generating rich reports or viewing graphical data is simple and easy.
A key driver of supply chain performance is the ability to maintain relationships and visibility with your largest suppliers to eliminate costly errors. Monitoring spend of the organizational breadth you manage gives you the ability to negotiate and build stronger bonds with your supplier community, extracting more value out of each relationship.
The Dashboards You Have Been Waiting To See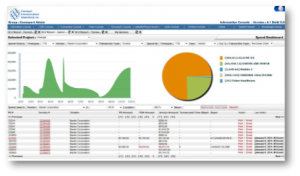 Visualize Your Metrics
Budget owners, finance leaders and procurement managers have access to the rich analytics and data they need, in an intuitive custom dashboard. With a few clicks, information on organizational spend, transactions, errors, order exceptions and vendor KPI scorecard metrics are all presented graphically for easy monitoring, reporting and strategic decision making.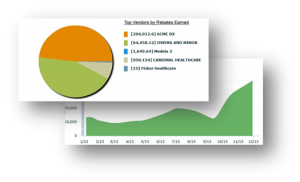 See Savings Today
Purchase Orders that contain an error, result in costly reconciliation costs, as studies show it can cost as much as $60 plus to manually reconcile a Purchase Order with an error. Using visibility into order and order vendor response will result in immediate ROI benefits by reducing reconciliation time and price inaccuracies.
Your team has worked hard to negotiate savings and reduce errors, and CommCARE has a great way to show those savings. In one view you see the dollar value gained from increased efficiency, control, vendor collaboration, reduced errors and eliminated manual paper based workflows.
Dashboard Tools & Features
Spend Analysis Dashboard
The Spend Analysis Dashboard gives visibility into spend metrics across the supply chain allowing you to track the total value of organizational purchasing.  See how much your organization has spent this week, by either individual location or vendor; or report spend by product and product type or classification. Find out spend by buyer, vendor, ship to location, business unit or product category to eliminate maverick off contract spend and reign in cost efficiencies.
Order Transaction Dashboard
The Order Transaction Dashboard provides critical order information to ensure smooth and effective supply chain operations. All transactions are tracked and can be viewed by timeframe, vendor, transaction type or by each individual electronic document. Built in is an order exceptions dashboard that highlights problem transactions to be reconciled, saving expensive manual labor costs. Orders which contain price discrepancies between PO, POA and Invoice trigger a notification to be verified to ensure bad data is not continually passed along.
Rebate Savings Dashboard
The Rebate Savings Dashboard displays all your product rebate savings from your entire vendor community. Through this view find savings from your top vendors to build better value relationships and savings. Search by vendor, category or classification.
Price Change Impact Analysis
The Price Change Impact Analysis gives insight into the effect of changing product prices based on your organizational purchasing behavior. Understanding the effect of a price increase or re-negotiated contract, allows decision makers to better understand the effect on supply chain costs.
Benefits
| | |
| --- | --- |
| Identify Item Exceptions Quickly | Find problem transactions that have Back Ordered, Rejected, Deleted items that may cause supply disruptions. In addition, gain visibility into Item Substitutions, Price Changes, Quantity Changes and On Hold Items to eliminate potential errors. |
| Transaction Price Flow Visibility | Find 2-way price discrepancies between the Purchase Order and Price Order Acknowledgement or 3-way between PO,POA and Invoice to ensure price accuracy across the purchase life cycle. View price exceptions by vendor to find areas for improvement. |
| View Organizational Spend | Gain visibility into entire organizational spend in one view with search and filters into historical timeframes. Reporting and Analysis is easy with quick reporting. |
| Find Savings | Quickly track all your savings rebates from your vendor community. Track your top vendors to build stronger relationships to deliver more value to your supply chain. |